Sling? Wrap? Babywearing consultation? Baby carrier?
So much choice on models and brands!
Which one suits me and my baby?
Which carrier is physiologically correct?
How do I tie my wrap so that my baby is well supported?
Being pregnant and babywearing – is it possible?
Carrying twins?
How to carry my baby with special needs?
The babywearing consultants of www.droen.lu have been trained by different babywearing schools and will guide you to make your choice. After a brief theoretical part, we will help you choose the right babywearing method for you and your baby, whether you prefer a wrap, or a babycarrier. Our consultants are free of any brand association.
03.05.2019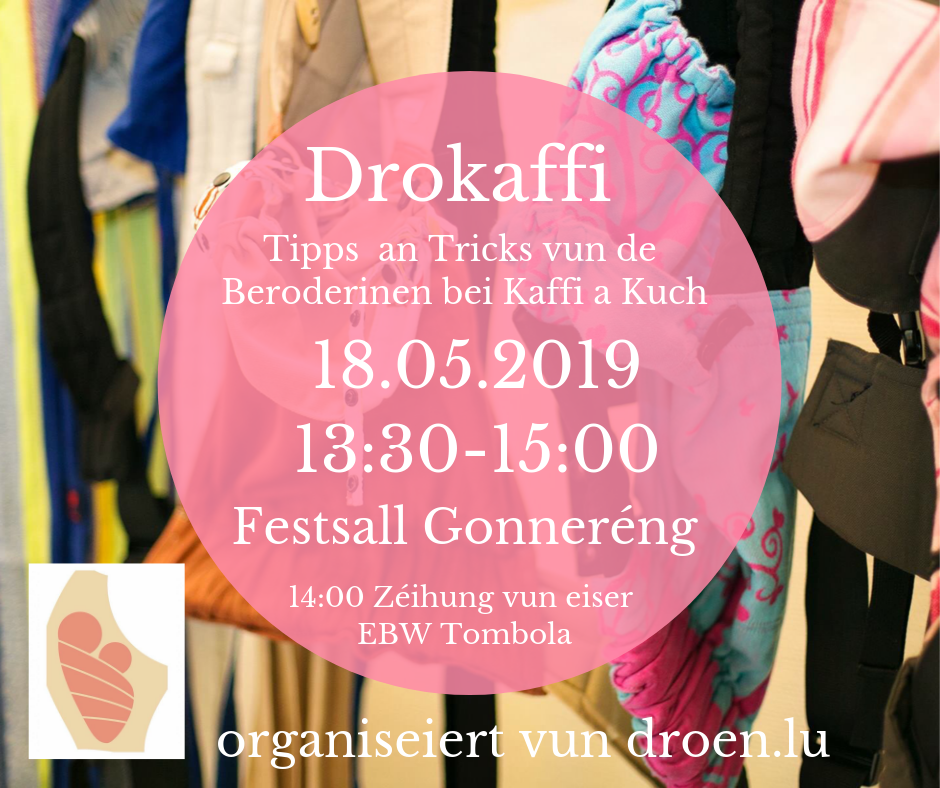 .
Merci all eise Sponsoren - Thanks ... more about this
30.04.2019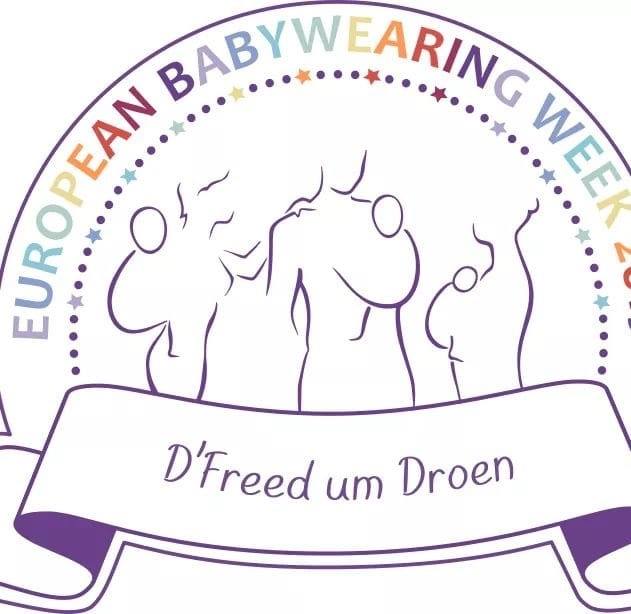 .
EBW 2019 reckelt emer mei no
.
Mer als Droberoderinnen vun droen.lu hun och dest Joer ee puer flott Saachen fier ierch zesummenkritt. Alles verroden mer haut nach net, mee et lount sech nees. Mer wäerte no a ... more about this
02.04.2019
Save the date!
.
Den 18.Mee 2019 vun 13.30-15 Auer, Festsall zu Gonneréng
.
Drokaffi

.
Droberoderinnen inviteiren ierch op een flotte Nometteg mat Kaffi a Kuch, um 14:00 zeihen mer eis grouss Tombola dei mer fier europe ... more about this
12.01.2019
Den 12. Januar 2019 war d'Generalversammlung.
.
Fir 2019 setzt de Comité sech aus folgenden Droberoderinnen zesummen:
.
Präsidenin: DEMUTH Corinne
.
Sekretärin: BAUMANN Laure
.
Trésorière: WEIS Chantal
.
Memberen: LEUENBERGER-WAGNER Anouk, WIETOR Félicie, WEYLA ... more about this